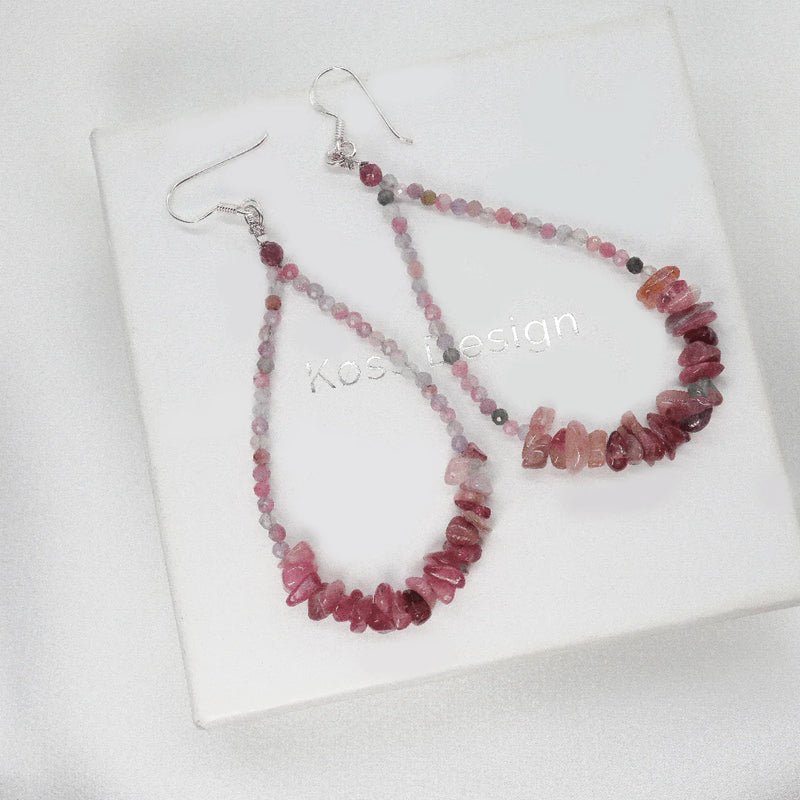 Clia - Tourmaline earrings
Regular price
525,00 kr
/
---
Elegant and refined Cila earrings, made from genuine Tourmaline gemstones.

Comes with a unique Køss Design velvet bag.
Materials: Gemstones - Tourmaline

Size: 7cm
Color: Multiple
Tourmaline is a gemstone valued for its many beneficial properties.
It is said to have balancing and purifying properties, and can help boost self-confidence and mental clarity.
It is also said to promote creativity and motivation, and to dispel negativity and emotional blockages. Tourmaline can be an excellent choice for those seeking to improve their mental and emotional well-being.
In addition to its spiritual benefits, tourmaline is also known for its beauty and diversity of color.

By wearing these earrings, you can take advantage of all the benefits of this gemstone while adding a unique touch of style to your outfit.

Promotion & Shipping
✨ CYBER SALE by Køss Design✨ -35% off every second item with code CYBER35, while stock lasts.
Shipping to Canada, Australia, Singapore, Norway and the USA/UK: fast (3-8 days) and secure thanks to a strong partnership with local delivery partners.

Return : a doubt about the size or about our jewelry? Don't panic, you can easily return the products within 30 days.
Quality of the beads: Our glass beads are chosen with great care and are all authentic, they all come directly from Japan.
Neat packaging: Each order contains one or more unique Køss Design satin pouches, ideal for gift giving or indulgence.
Any remaining doubt?
With over 20 000 satisfied customers to date, customer satisfaction is at the heart of our business. You can find our reviews on our website, but also on our Facebook and Instagram pages in the "Our customers" section to see all our customers reviews and testimonials.
Payment: also available with 3x free of charge with our partner Klarna